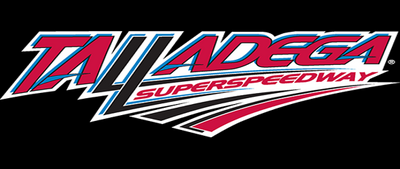 Location: Talladega, Alabama, United States
Length: 2.66 Miles (4.28 km)
Turns: 4
Configurations: 1
Pit Road Speed: 60 mph (96 kmh)
Price: $14.95 USD
Track Map ---->  
Type: Tri-Oval Superspeedway
Owner: International Speedway Corporation
Opened: September 13th, 1969
Status: Open
Nicknames: Dega, The Biggest & The Fastest, Junior Nation Capital
Track Changes: 1969, 1989, 1990
Banking:
33 Degrees in Turns 1 and 2.
32 Degrees in Turns 3 and 4.
17 Degrees in Tri-Oval.
5 Degrees on Frontstretch.
3 Degrees on Backstretch.  
Former Names:
Alabama International Motor Speedway (1969 – 1989)
Bio: Welcome to the worlds fastest speedway, Talladega Superspeedway in Alabama. Talladega is the biggest, fastest, and most competitive motorsports facility in the world. Speed says it all about this place. Its record breaking two and two-thirds mile tri-oval keeps drivers glued to Earth by virtual 33 degree banking. Freight trains of stock cars in the draft have literally caused the Earth to rumble in Alabama.