Location: Summit Point, West Virginia, United States
Length: 1.11 to 1.98 Miles (1.786 to 3.187 km)
Turns: 7 – 10
Configurations: 5
Pit Road Speed: 45 mph (72 kmh)
Price: Free
Track Map ---->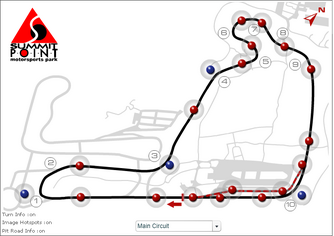 Type: Road Course
Owner: Bill Scott Racing, Inc.
Track Changes: 1969, 1970, 1995, 1996, 2003,
2004, 2005, 2006, 2007, 2013, 2014
Opened: 1970
Status: Open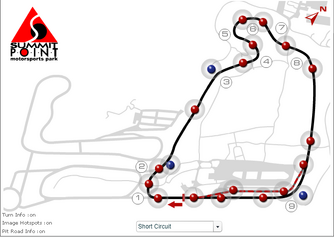 Former Names:
Summit Point Raceway (1970 - 2005)
Bio: With the hilly, but high-speed 2 miles of action, Summit Point Motorsports Park offers every challenge a road-racer could desire with tight turns and long straights. All settled in West Virginia's countryside, it's still a challenging circuit. The Summit Point Motorsports Park feels like a fast tour over country roads that gives great action for all to see.