Location: Kenly, North Carolina, United States
Length: 0.40 Miles (0.64 km)
Turns: 4
Configurations: 1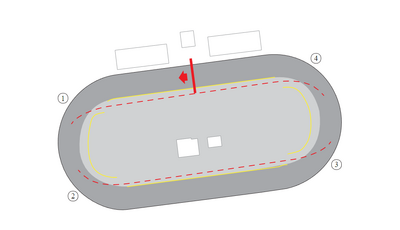 Pit Road Speed: 35 mph (56 kmh)
Price: $11.95 USD
Track Map ---->  
Type: Short-Track Traditional Oval
Owner: Michael Diaz
Opened: 1993
Status: Open
Banking:
17 Degrees in Turns
7 Degrees on Straightaways
Former Names:
Southern National Speedway (1993 – 2005)
Southern National Raceway Park (2006 – 2011)
Defunct (2012 – 2013) 
Bio: In a little more than two decades, Southern National Motorsports Park has earned a reputation as one of the premier short-tracks in the Carolinas. Opened in 1993, the 17 degree banked 4/10ths mile speedway became part of NASCAR's Home Tracks program as a host to NASCAR's Whelen Modified Series. The track may be short on length but, the action still reigns at this tight, impressive oval.