Location: Braselton, Georgia, United States
Length: 1.76 to 2.54 Miles (2.83 to 4.08 km)
Turns: 10 – 14
Configurations: 3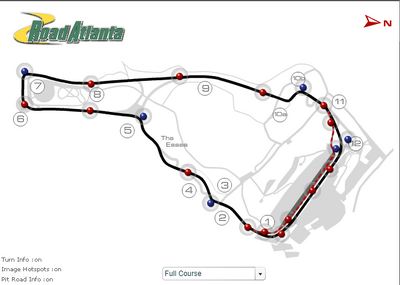 Pit Road Speed: 45 mph (72 kmh)
Price: $14.95 USD
Track Map ---->  
Type: Road Course
Owner: IMSA Holdings, LLC
Opened: 1970
Status: Open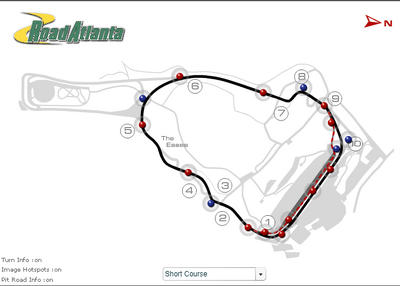 Track Changes: 1970, 1987, 1988, 1997, 1998,
2002, 2003, 2007, 2008
Bio: Located in Braselton, Georgia, Road Atlanta is the hub of the Panoz Motor Sports Group and the American Le Mans Series. With multiple turns, Road Atlanta can decimate a car on raceday. Cars and bikes of all shapes and sizes visit Road Atlanta to see what this roller coaster of a race track has in store waiting for them.