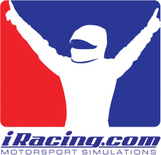 Welcome to the iRacing wiki
The iRacing wiki is a fan made data base for the iracing.com simulator. Anyone can edit it as long as it is related to iRacing.
iRacing.com
Edit
iRacing is an advanced simulator that laser scans the tracks to the perfect detail. It features a rankings system that ends with the World Championship Grand Prix series and Blancpain GT Series for road and the NASCAR PEAK Antifreeze Series for Oval which the latter being officially sanctioned by NASCAR. The pros use it such as Dale Earnhardt jr., A.J. Allmendinger, Kyle Larson, and Alex Gurney. Also, it is available to public and features over 65,000 members, Over 75 Different cars and over 80 Different tracks with over 220 total configurations. This is the best racing simulator out there. It was designed by Dave Kaemmer, the same guy who also designed the NASCAR racing 2003 game, Grand Prix Legends, and Indy 500: The Simulation.
iRacing Cars in Alphabetical Order
Edit
iRacing Tracks in Alphabetical Order
Edit
Latest activity
Edit