Basic SubscriptionEdit
Each account starts off with 6 default cars.
JR Motorsports Street Stock
Legends Ford '34 Coupe (Normal & Rookie)
Mazda MX-5 Cup
Mazda MX-5 Roadster
Pontiac Solstice (Normal & Rookie)
Spec Racer Ford
Cadillac CTS-V Racecar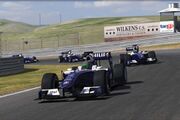 Add-on Cars
Edit
iRacing also offers add-on racecars for the game. All cars range from $5.00 to $11.95.
Dallara Indycar
Chevrolet SS Gen-6
Ford Fusion Gen-6
Silver Crown Race Car
Sprint Car
Star Mazda
Volkswagen Jetta TDI Cup
Williams-Toyota FW31
Chevrolet Impala Class B (Nationwide Series)
Chevrolet Monte Carlo SS
Chevrolet National Impala
Skip Barber Formula 2000
Chevrolet Corvette C6.R
Chevrolet Impala COT
Ford GT
Ford Mustang FR500S
HPD ARX-01C
Kia Optima
Lotus 79
Radical SR8
Chevrolet Silverado
Ford V8 Supercar
Modified Racecars (SK and Tour)
Ad blocker interference detected!
Wikia is a free-to-use site that makes money from advertising. We have a modified experience for viewers using ad blockers

Wikia is not accessible if you've made further modifications. Remove the custom ad blocker rule(s) and the page will load as expected.